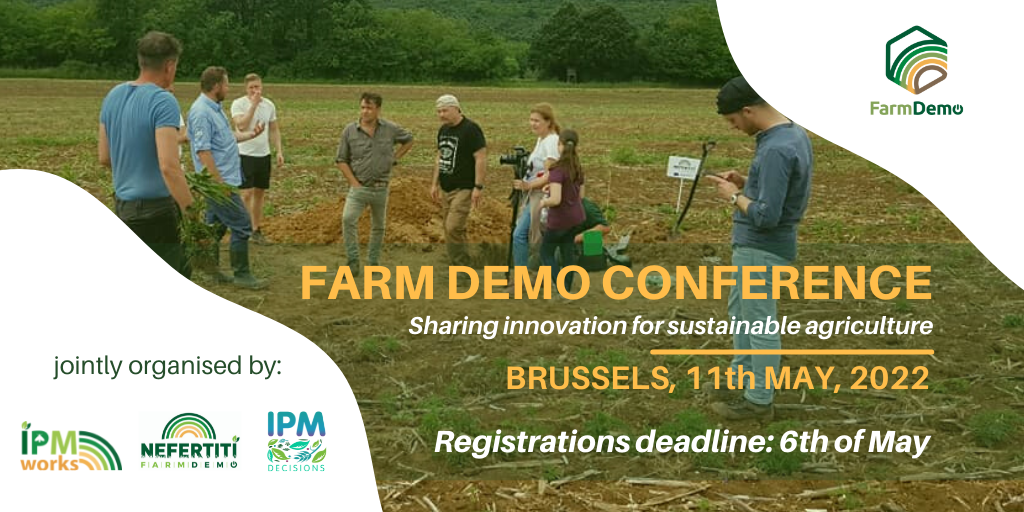 The registration for FarmDemo Conference 2022 is prolonged up to May 6th, 2022

! It is important to note that registration is required, although free of charge. Sign up and participate in this event,

here

!
The conference will bring high-profile experts who will debate over the added value of on-farm demonstration, the role of demo farms 'networks to promote the general adoption of sustainable farming practices, the facilitation of knowledge exchange and peer-to-peer learning, a new approach for strategical advice and the main tools for decision support for IPM demo farms.
The agenda of the event is divided into 4 parts:
1st part consists in the opening of the conference, which will have more institutional speakers such as, Mario Milouchev (Director AGRI F – Rural development II – DG AGRI) and Clara Aguilera (Member of the EU Parliament);

2nd part will be more technical and participative, with dynamics with the participants and, supported by round tables, each one with different perspectives and experiences sharing;
3rd part will have different workshops simultaneously, where the participants will be free to choose what they want to attend, followed by the testimony of experts on what to expect from the networks of Demo farms and closing with the view of an external witness;

4th part will close the Conference by highlighting the future perspectives of the demo-farm networks across the Europe  and through the testimonies of several experts .
The final agenda is yet available here.
Additional info and promotion video for the conference can be found
here.