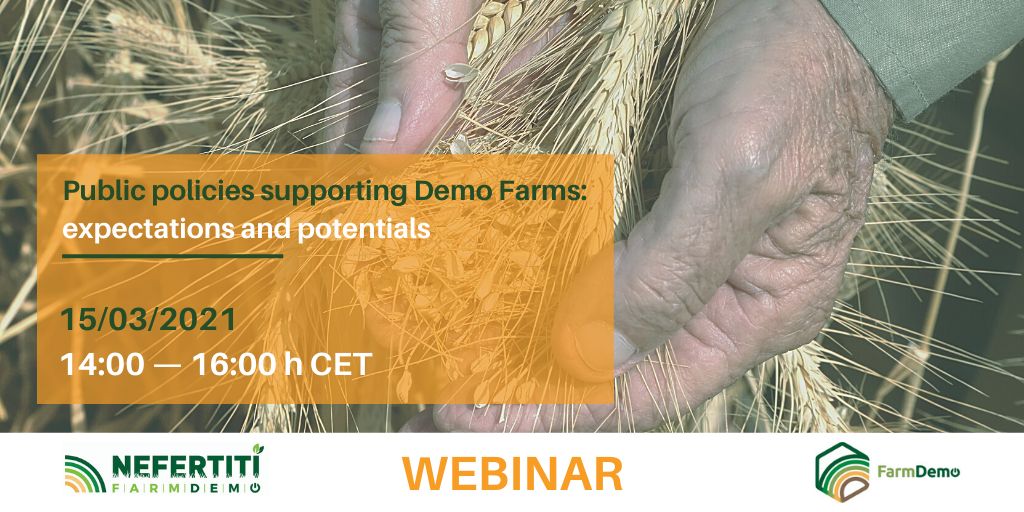 The webinar: "Public policies supporting Demo Farms: expectations and potentials" has been organized under NEFERTITI project on March 15, 2021, from 02.00 PM to 04.00 PM (CET), ONLINE!
Taking stock of the NEFERTITI project experience (building on Plaid and AgridDemoF2F experiences) with Demo Farm activities, the webinar was aimed at presenting relevant project findings and understanding how public policies can improve both the role of DEMO Farms in AKIS and their peer-to-peer learning potential.
With a hundred registered participants, the webinar attracted a good number of Governmental representatives (42%) and ENRD/AKIS experts (21%), who could learn from practical experiences from the project and from two ongoing National initiatives. European Commission DG AGRI supported the discussion by introducing relevant opportunities in the new EU programming period and sharing ideas and suggestions.
The event has helped Nefertiti project to collect information and connect with relevant experts in order to prepare some analysis and policy recommendations, which will be delivered by the end of 2021.
The full agenda of the webinar can be found below:
13:50 – Check-in of registered participants
14:00 – Opening and introduction. Adrien Guichaoua, NEFERTITI Coordinator – ACTA
14:05 – NEFERTITI activities and achievements
14:05 – Supporting on farm demonstration. Mathieu Merlhe, WP3 – APCA
14:05 – The Farmdemo platform. Marko Prokin, WP4 – BIOSENSE
14:05
– Engagement of policymakers. Fabio Boscaleri and José Vogelezang, WP6
14:35 – Opportunities in the new Programming Period. Inge Van Oost, EC DG AGRI Unit B2
14:50 – Ideas and examples from territories
14:50 – The Polish case. Ewa Grodzka – Ministry for Agriculture, and Katarzyna Boczek – AAC
14:50 – The Italian case, Francesco Piras, RRN-ISMEA
15:10 – Info and data to be collected in NEFERTITI project for a proper analysis
15:20 – Interactive session and debate
15:50 – Next steps and closing remarks
You can watch the full video of the webinar below the content directory :
00:00​ Opening and introduction – Adrien Guichaoua, ACTA 
08:19​ Supporting on farm demonstration – Mathieu Merlhe, APCA 
20:14​ The Farmdemo platform – Marko Prokin, BIOSENSE 
27:39​ Engagement of policymakers Fabio Boscaleri & José Vogelezand, Regione Toscana & Wageningen Plant Research 
34:39​ Opportunities in the new Programming Period – Inge Van Oost, EC DG Agri 
56:54​ Ideas and examples from territories 
57:00​ The Polish case – Ewa Grodzka, Ministry for Agriculture & Katarzyna Boczek, AAC 
1:11:49​ The Italian case – Francesco Piras, RRN-ISMEA 
1:26:15​ Info and data to be collected in NEFERTITI project for a proper analysis – Fabio Boscaleri & José Vogelezand, Regione Toscana & Wageningen Plant Research 
1:32:41​ Interactive session and debate 
2:00:00​ Next steps and closing remarks
You can download the presentations of the webinar: