The topic of grassland and carbon sequestration was covered at two recent Open Days held at Teagasc Moorepark and Teagasc Johnstown Castle. These were two major events in the Irish agricultural calendar, attracting large numbers of farmers and industry stakeholders.
According to Redmond McEvoy, Teagasc advisor on the NEFERTITI project, "carbon sequestration is a natural or artificial process by which carbon is removed from the atmosphere and held in solid or liquid form" and "is of interest to all due to the role it can play in removing CO2 from the atmosphere".
At the Johnstown Castle Dairy Beef Open Day held on May 21st, a number of boards were presented on environmental issues including;
Gaseous losses to the atmosphere
Assessing and monitoring soil quality in Irish grassland soils
Mitigating Agricultural Greenhouse Gas Emissions by improved pH management of soils (MAGGE-pH)
NEFERTITI "Grassland and Carbon Sequestration"
Further information on these papers and associated boards is available at the following link: https://www.teagasc.ie/publications/2019/dairy-beef-2019.php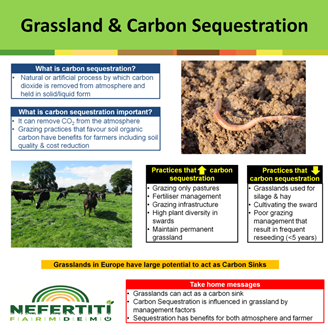 NEFERTITI was also represented at the Moorepark Open Day on July 3rd with a board titled "Carbon Sequestration" and a paper presented in the booklet titled "Grassland and Carbon Sequestration", both of which are available here; https://www.teagasc.ie/animals/dairy/moorepark/moorepark19/putting-grazing-management-into-practice/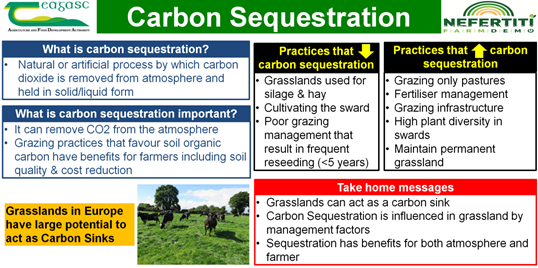 Carbon Sequestration Board at Moorepark '19
The NEFERTITI project was delighted to be involved in two very successful events and looks forward to running further events on grassland and carbon sequestration in the autumn.
The Project "Networking European Farms to Enhance Cross Fertilisation and Innovation Uptake Through Demonstration" (NEFERTITI) is a unique Network (selected under Programme Horizon 2020) comprising 32 partners and coordinated by ACTA, the head of Network of the French Agricultural Technical Institutes. The project duration is 4 years and it will finish on the 31st December 2021. The overall objective of NEFERTITI is to establish an EU-wide, highly connected network of well-specified demonstration and pilot farms designed to enhance knowledge exchanges, cross fertilisation among actors and efficient innovation uptake in the farming sector through peer-to-peer demonstration of techniques that are organised by themes. 10 interactive thematic networks have been created, bringing together 45 regional clusters (hubs) of demo-farmers and actors involved (advisors, NGOs, industry, education, researchers and policy makers) in 17 countries. These events are being organised under Network #1 Grassland and Carbon sequestration. Additional information can be found on the project website: https://nefertiti-h2020.eu/. Follow us on social media; Facebook: https://www.facebook.com/NEFERTITI.EU/  Twitter: https://twitter.com/NEFERTITI_EU
Further information on the NEFERTITI project is available from the Irish Hub contact:
John Moriarty | Email: john.moriarty@teagasc.ie | Tel: 02542275