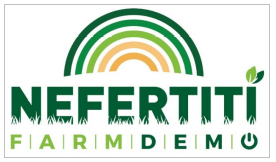 NEFERTITI webinar "Public policies supporting Demo Farms: expectations and potentials" will be held on March 15th, 2021, from 14.00 to 16.00 (CET), ONLINE!
Taking stock of the NEFERTITI project experience with Demo Farm activities, the webinar is aimed at understanding how public policies can improve the role of DEMO Farms in AKIS and their peer-to-peer learning potential.
The new European Union programming period and, particularly, the new CAP can shape new approaches to the strategic role of Demonstration activities and farms, with National and Regional Governments playing a crucial role in adopting the most favourable policy framework.
By sharing their knowledge and perspectives, participants will help NEFERTITI project to set up a survey and carry out relevant analysis and policy recommendations, which will be delivered in September 2021.

FINAL AGENDA
Moderator: Adrien Guichaoua (NEFERTITI Coordinator)
Facilitators: Alessandra Gemmiti, Fabio Boscaleri, José Vogelezang, Marga Vintges and Soila Huhtaluhta (NEFERTITI WP6 team).
13:50 – Check-in of registered participants
14:00 – Opening and introduction. Adrien Guichaoua, NEFERTITI Coordinator – ACTA
14:05 – NEFERTITI activities and achievements
– Supporting on farm demonstration. Mathieu Merlhe, WP3 – APCA




– The Farmdemo platform. Marko Prokin, WP4 – BIOSENSE




– Engagement of policymakers. Fabio Boscaleri and José Vogelezang, WP6 – Regione Toscana and Wageningen Plant Research
14:35 – Opportunities in the new Programming Period. Inge Van Oost, EC DG AGRI Unit B2
14:50 – Ideas and examples from territories
– The Polish case. Ewa Grodzka – Ministry for Agriculture, and Katarzyna Boczek – AAC




– The Italian case, Francesco Piras, RRN-ISMEA
15:10 – Info and data to be collected in NEFERTITI project for a proper analysis
15:20 – Interactive session and debate
15:50 – Next steps and closing remarks
Target group
Partners and stakeholders of the NEFERTITI project

Farmers and Demo Farm representatives

ERDN and National Rural Networks experts

Representatives from National and Regional Rural Development Managing Authorities

Experts from National/Regional AKIS systems
Expression of interest and registrations
Deadline for registrations is March 8th 2021.
Registered participants will receive additional information and the final agenda on March 10th 2021.