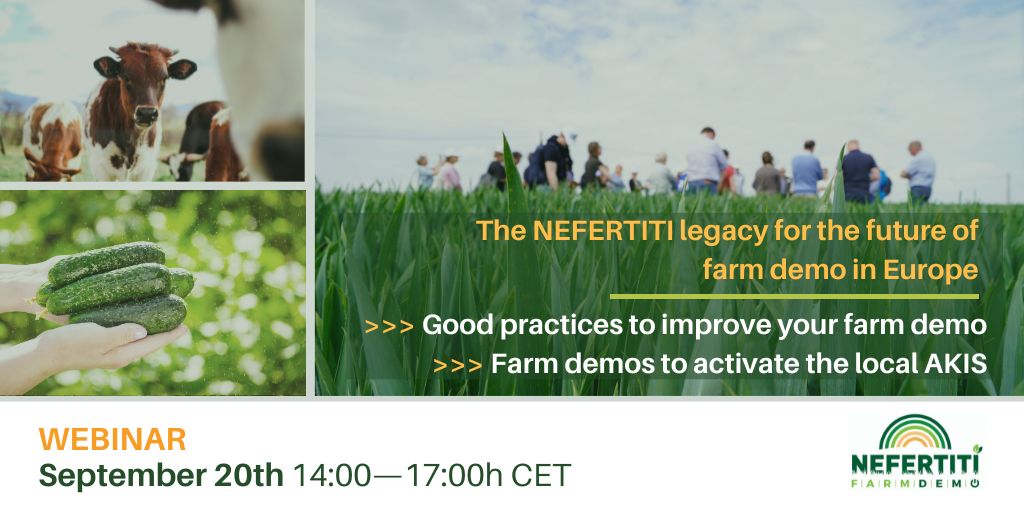 NEFERTITI Final Webinar: "The Nefertiti legacy for the future of farm demo in Europe" will be held on 20th of September from 14.00 to 17.00 CET.
The main NEFERTITI project achievements will be presented during the webinar. The focus will be on:
"Good practices to improve your farm demo events and activities" (The Farm Demo Training Kit);

"How farm demos activate the local Agricultural Knowledge and Innovation Systems (AKIS)" (Some policy recommendations)
The provisional agenda is available here.
The webinar is open to anyone who would like to join: farmers, advisors, researchers, and other stakeholders in the field of agriculture.
Participation in the webinar is free, but pre-registration is required!
You can register for the webinar on the following link: https://bit.ly/3ORhlrS.
You will receive the link to connect to the meeting few days in advance.
NEFERTITI project is a unique Network (selected under Horizon 2020, Societal Challenge 2, RUR 12-2017 call) comprising 32 partners and coordinated by ACTA, the head of Network of the French Agricultural Technical Institutes. The project focuses on the establishment of 10 interactive thematic networks covering the 3 main agricultural sectors: animal production, arable farming and horticultural production. They bring together 45 regional hubs of demo-farmers and innovation actors – advisers, cooperatives, NGOs, industry, education, researchers and policy makers. The project duration is 4 years and 9 months, from the 1st January 2018 to the 30th  September 2022.
Save your spot now and see you all on September 20th!