On the 3rd of March 2020 the Irish Network 10 hub as part of the NEFERTITI project Network 10 "Farm Attractiveness" campaign, attended the Agri Aware, Farm Walk and Talk event held on the Teagasc, Moorepark research farm. This is an annual event with over 400 students attending from surrounding counties and one of ten events held over a two week period across the country.
The theme of this year's event was "sustainability" in keeping with the chosen topic for second level agricultural science projects. The continued entry of young people into the agricultural industry is essential to secure its future sustainability.
There were a total of 14 stands throughout the farm where postgraduate students, researchers and industry representatives presented a variety of topics to students. Nefertiti was represented at the "Introduction Board" which included careers (NEFERTITI), an overview of the industry and an overview of Teagasc.
Students were given an overview of the opportunities available in the industry. During this current time of growth many opportunities exist in the dairy industry. The education courses available in agriculture and the collaborative options available to gain entry to the industry were also outlined.
John Moriarty Nefertiti hub coach for Ireland stated that, "this event is a great opportunity to interact with second level students who will be making education and career choices in the coming years and encourage them to consider agriculture and dairy farming. Also as students seek out part time and holiday work there are many opportunities available on farms such as relief milking and calf rearing".
The Irish NEFERTITI hub is grateful to Agri Aware and the local organisers in Moorepark for the opportunity to participate in the event and look forward to future collaboration. Further information on the Walk and Talk Series can be found at :
https://www.agriaware.ie/farmwalk2020.html.
Further information on the NEFERTITI project is available from the Irish Hub contact: John Moriarty, e-mail: john.moriarty@teagasc.ie,        tel: +353 2 54 22 75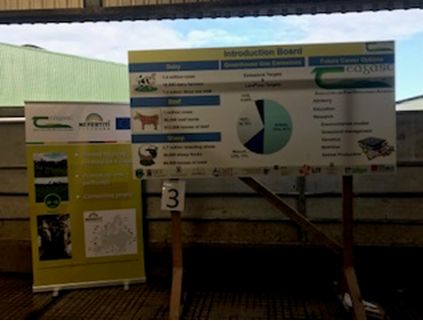 Stand 3 ready for the first group of students at the Agri Aware, Walk and Talk event at Teagasc Moorepark on March 3rd.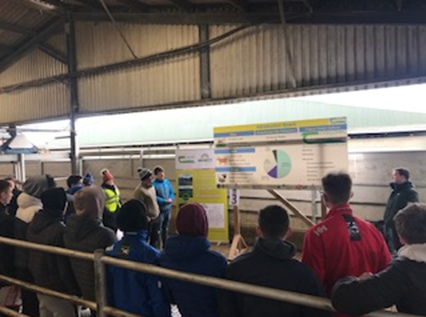 A group of students congregate at stand 3 for an overview of agriculture, Teagasc and careers (NEFERTITI) at the Walk and Talk event at Teagasc Moorepark.